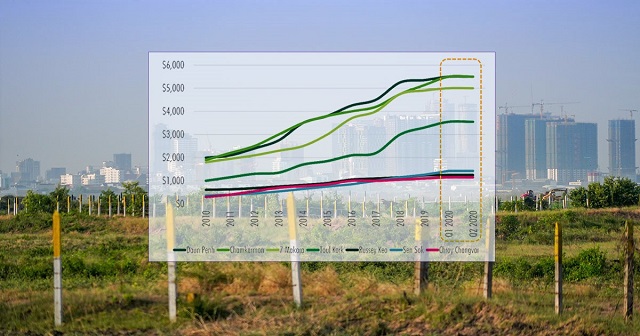 Land prices across all districts in Phnom Penh in Q2 of 2020 remain robust despite fewer transactions in the market due to the COVID-19 pandemic, according to the CBRE Cambodia report published on July 7.
Talking at the webinar presenting the report, Senior Director of CBRE Cambodia James Hodge said that the fact that the land prices remain robust is due to the stable cash flow of landowners, particularly those in the business districts.
"The fact that other indicators in the market are heading negatively will impact the central district of the city in particular. Given that, the property developers are less likely to make the same level of profit, so they would, in turn, reduce their target purchases of land plots. Therefore, what we expect to see is a reduction in the volume of transactions," said Mr Hodge.
"However, fewer transactions does not lead to prices reduction. Many landowners in the centre of the city are wealthy individuals and they own large land plots. They should have enough cash flow. So, we won't expect to see many sales during time that the price is stable, or when buyers expect to get the price below market," he added.
However, Hodge expects suburban land prices to decrease, which is good for small and medium-sized investors who need to make a rebate.
Despite COVID-19 crisis, Daun Penh, Chamkarmon, and 7 Makara districts remain the top three districts with the highest land prices, averaging from US$5,000 to 6,000 per square meter. This follows by Touk Kork, Russey Keo, Sen Sok, and Chroy Changvar, ranging from US$1,000 to 3,500 per square meter, according to the same report.(This news came from Construction-Property.com)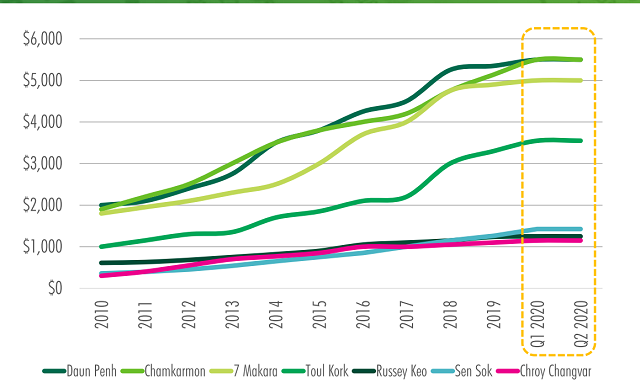 Disclaimer: The re-forward articles on Compass website are for the purpose of conveying more information, and it does not mean that the Compass website agrees with its views or confirms the authenticity of its content. Article noted as "Source: Compass original", please note that the source from Compass. The content of the article is for reference only and should not consider as investment advice, and it does not mean that Compass agree with its views.